JUNIOR TAEKWON-DO
A Korean martial art & life skills class for 4-7 year olds which helps them with focus, fitness and most important having fun! Through structured games & activities we help kids deal with the difficulties of modern living especially bullying and stranger awareness. We focus on key areas such as Self esteem, Confidence, Discipline, Channelling aggression and of course Self Defence.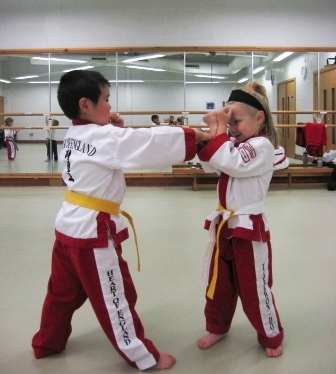 Junior TKD Students work on 8 themes
· Balance
· Focus/concentration
· Memory
· Stranger Danger
· Emergency skills
· Co-ordination
· Fitness
· Discipline
Stranger awareness and bullying are approached sensitively in a controlled and safe environment.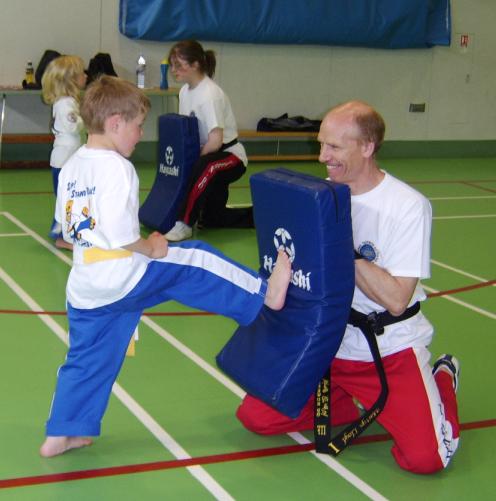 · Junior TKD Students, depending on their age when they enrol, undergo 8 gradings based on the themes above and rising from White belt through, Purple, Orange, Yellow, Green, Blue, Red, Brown and Finally Junior TKD Black Belt. Achieving Black Belt normally takes 2 years
· Junior TKD Gradings - These are generally held every three months and the students are assessed on the practical skills learnt and theory work. The theory usually comprises a series of questions complete with answers which appear in the JT Theory booklet provided at the time of enrolment. Each student learns the questions appropriate to their current grade, I.E. a Blue Belt will learn the questions headed Blue belt. Upon completion of a successful grading Students will receive their new belt, badge and certificate
· Junior TKD also helps prepare children for moving into full TaeKwon-do at the age of 7 years
· For Junior TKD Students who chose to go that little bit further with their training and development there are regular competitions where they can compete at High Kicking, Running Races, Long Jump and Patterns.
· Our Instructors and Assistants are all C.R.B. checked
· All Adult Instructors and Assistants have to attend a Child Protection Course
· All Instructors have a wealth of Taekwon-do knowledge
In order to ensure that Junior TKD is right
for your child the f
irst two lessons are free